eDiscovery Bootcamp: Win Your Case With 8 Simple Search Steps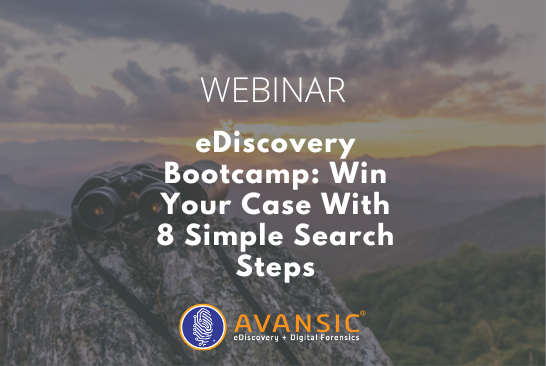 Even with advanced analytical technologies available, search is still a critical activity for successful eDiscovery. In this two-part webinar series on search, the first will be about the principles and fundamentals of search technologies, from basic to advanced. The second webinar illustrates the application of search technology in workflows to win cases.
There are two primary search types: 1) Are you trying to narrow results? And 2) are you trying to find a specific document? You can combine many techniques to narrow results and achieve the desired outcome. The art of finding a particular document (which may or may not even exist) requires skill and understanding of simple and complex search syntax. For example, in both cases, the misuse of parenthesis in AND & OR searches can create unexpected results or fail silently.
Ian Campbell of iCONECT and Dr. Gavin Manes of Avansic discuss how to successfully locate documents in an eDiscovery project. They examine many search technologies, from basic keywords to more advanced near-dupe and thread filtering, to give you confidence in finding the information you are looking to uncover.

Presenters:
Ian Campbell - Founder, iCONECT
Gavin W. Manes, Ph.D. - CEO, Avansic